I am always torn between loving old and rustic and new and modern. Anything "with a story" or that looks like it has a story always intrigues me. When refreshing my guest room I knew that something had to be done to this black cabinet.
It's one of those standard newlywed Target purchases that goes the distance but needed some personality. It really was a functional piece and had very little wear and tear considering we bought it 9 years ago! I remember purchasing it to create an "entryway" in our townhouse. It felt so grown up to have a designated place for our keys. It eventually found a home in our guest room as a nightstand and although I still like the piece, it needed something. I always assumed I wanted to paint it white but something kept me from pulling the trigger. If I have learned anything at all in decorating it is to listen to that little voice and wait until an idea really feels right. I knew white would immediately make the piece seem more modern in the space but modern didn't feel right. I also knew it would, obviously, brighten things up but, that also didn't seem necessary. And then I stumbled across this from The Painted Hive blog…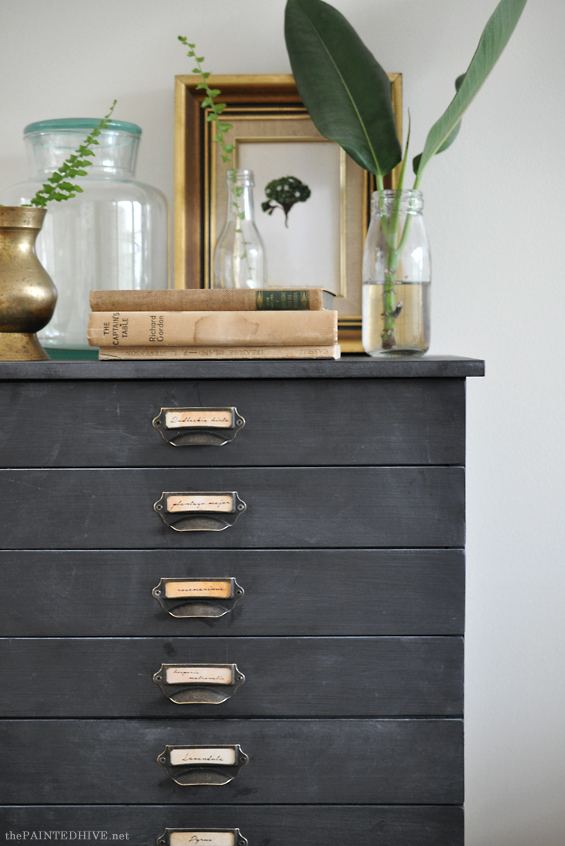 Alarm bells started going off in my head. THIS!! This is what I wanted. Something that added a little age and character to the room. I knew I could handle a little chalkboard paint too because I had used it before and remembered it being very forgiving and that's important for impatient painters. I quickly gave it a coat of Kilz stain blocker primer…
The funny thing is, I happened to look back through some
old design boards for clients and I saw this one I made for someone…
I was helping them fill a small corner of a room and I was obsessed with
this dresser from Anthropologie
. I tried and tried to sell it but they ultimately went with something else. I loved the look then and I love it now. I love it even more in my own house!
The chalkboard paint completely took away that glossy sheen.
Now the piece has a great aged look, almost like slate.
I followed the basic instructions found from The Painted Hive which included rubbing a little chalk over the entire piece once it had dried. This just adds to the distressed look.
Paired with some eucalyptus and glass vessels this little cabinet
has that natural, lived in feel I love!
And now that it is a little more grey than black it blends
so much better with the rest of the room.
So what do you think of my mini makeover?
Later this week I will share more about the super-simple hardware!
To see the rest of my guest room/office makeover click,
here
.