So it's week 2 of the One Room Challenge and I already feel like things are full throttle. If you missed last week…I am trying to take the space at the top of our landing and create a reading nook. My mantra this year is "No dead space!"
I've got a lot of balls in the air and this is the first time that I am relying more on outside sources than myself and it is nerve-wracking! I know how to make myself scramble at the 11th hour but it's a new kind of stress having to just sit back and wait for others to deliver. Luckily I really trust who I have chosen and I am fairly positive they are going to bring my vision to life. And I am happy to not have to do the heavy work!
Also helping my stress level is the fact that I am using
itSums
for this go-round. Since discovering them a couple of months ago I have been budgeting my projects like a rock star. A quick recap:
itSums
allows you to create project boards (clipping images directly from the sites you shop) and tally your spending as you go. You can create categories for each item so that you can see if you are spending too much in one area. At the end of this post I will share how I am faring so far.
Week 2 To Do List:
– Find bench inspiration
– Have built-in bench made
– Choose drawer hardware
– Check in on my itSums board
These are some of my favorite inspiration images. It always helps to have a reference point, especially when trying to convey an idea to your contractor. I love the eclectic feel of this bench, the sconces that flank each side, the rug and tables…
These drawers are very similar to what I want. I also love how this little space was treated as a "real room" and accessorized accordingly…
Ibie's built-in bench has long been a favorite. The plush cushion and genius storage…
My contractor came over and we hashed out the details. Somewhere along the way Taylor popped in and suggested we continue the bench on either side of the window as well, creating more of a "U." Good call for maximizing the space!
Lowe's
is graciously sponsoring this project and luckily my contractor is a loyal Lowe's shopper so he was able to quickly get in and get what he needed:
3/4″ furniture grade plywood
1/2 furniture grade plywood
5 sets of 22″ soft closing drawer glides
baseboard and molding trim
Here is the update shot I got just a couple of days ago…
Drawers are a must as we are trying to maximize every square inch of our house and we can always use extra storage. I looked through the selection of hardware at Lowe's and landed on this
Sumner Street drawer pull
: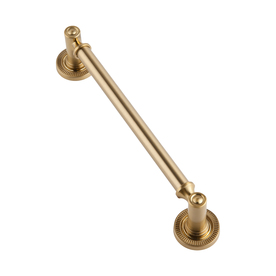 And if you didn't believe me about needing extra storage…here is a shot of the landing present day.
#keepingitreal
There is a chair under there!
For Next Week:
– Choose fabric and have roman shades made
– Choose fabric for bench cushion
– Choose pillows for bench
– Hang sconces
– Find a small table (maybe)
– Find a small rug (maybe)
– Clean up and style other areas of landing
And if you want to see how I am keeping up with my budget you can check out my One Room Challenge itSums board, here. It really is such a fun and easy way to manage how and what you are spending. Never would I think of budget as "fun" or "easy" but it really is with this site!
Make sure to head over to Calling it Home to see all of the people who are linking up. And make sure to follow along even on non-check in days by following me on Instagram and Facebook. You can also see where I gather my inspiration on Pinterest.
And to keep track of my weekly progress here is each post:
ORC Fall 2015 Week 1