Are you still with us? Are you happy/sad about any of
Yes, even a commitment-phobe like me is still hanging in! I packed my accessories store into the back of my car and headed up there yesterday to start adding all of the filler to the room. This is my absolute favorite part of this job, in fact I could be happy doing just accessory styling as a full-time gig. To me, it's like a puzzle and nothing is more satisfying than standing back after you finally having everything in it's place.
I have had a really hard time finding the right size and right-priced topiaries. I bought some locally but if they do not work out I have these as a back-up.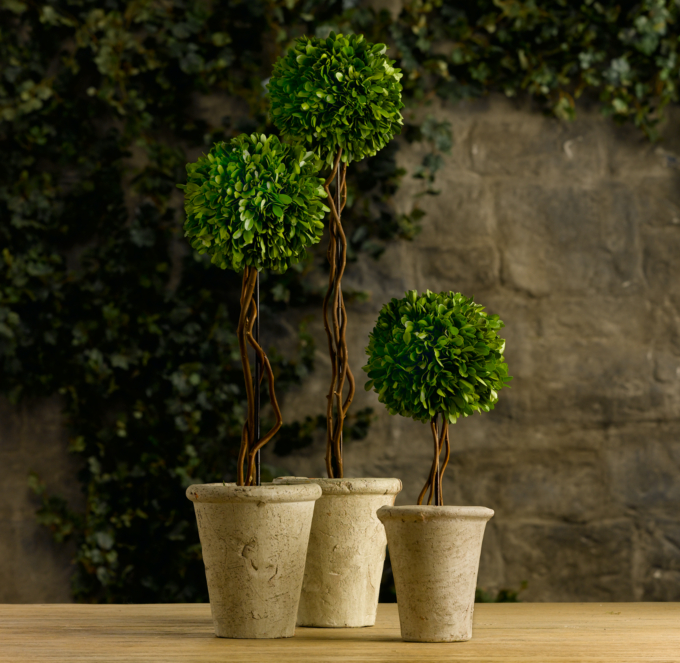 via Restoration Hardware and they're on sale!
Will they or won't they work…you will just have to wait to find out. Mwuhuhahaha
One thing I am very sad about is that our IKEA is sold out of their fiddle leaf figs already (again!). Every room can benefit from a fiddle. I just love the casual vibe that it adds to any style and any room. I would put one in my bathroom if I could- those things are addicting.
And we are still in limbo about a console table but otherwise I am really happy with everything!
Does anyone else have to look at a room through a picture to decide what looks good?
I did a lot of that yesterday…
Urn?
bowl?
candle?
empty bowl?
full bowl?
Decisions, decisions.
Those are some sneak peeks for you and today I am working on photographing the room!
Here is all of my progress if you're catching up: