If I have never confessed my undying love for Reese Witherspoon, let me do it now. In my celeb-obsessed mind her and I could be best friends. She has always seemed like an old high-school friend who just happens to have struck it rich and now has a phenomenal closet. She is in the upcoming August issue of Elle Decor, sharing her ranch. It's where she got married earlier this year and to hear her describe it, I am even more certain that we would get along. Here is how she sums it up:
"[The house] is meditative and restorative. As soon as I drive through the gate, I relax," she says. "The air is fresh, the phone isn't ringing, you can't access e-mail. Time slows down. Within an hour I'm lying on that couch taking a big fat nap. It's like having a little bit of Tennessee in California."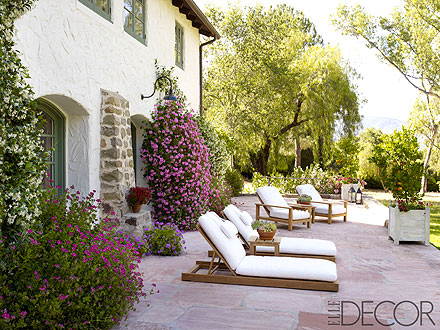 Not only does my girl Reese have it right when it comes to getting away from Hollywood,
the girl has some killer legs!!
For all images and full article click
here
.
For a look at the interior designer, Kristen Buckingham's portfolio and shop check out
her site
.