Last Thursday I read something that blew my mind. Not because it was so earth-shattering but because it was speaking directly to me. By a stranger. Through a computer screen. I know, I get it, that's what blogs are intended for, but it's not often that I read something that I feel like someone pulled right out of my own head. I read this article by Glennon and the whole time in my head I was going "yep" "all the time" and "oh my gosh, yes!" I hate when the computer steals me from the now. I hate thinking about the amount of time I spent reading something online instead of playing with my kids (*Note I did read that article when my kids were asleep at least). And when it comes to design blogs, I hate that I spend too much time comparing myself and my house to other virtual lives instead of just puttering around my house moving and making things.
I, too, can use the computer (and cereal for that matter) to numb out. It felt good to read something that made me aware of that. I am always fighting to stay present and content and her article put all those complicated feelings into words. Much better than I ever could!
My favorite part was the end of it when she said everything is not good or bad. I realize that I don't have to quit all social media but I can definitely try my hardest to use it in a productive way and without sacrificing other important things. Even before I read her article I was mentally craving a little less chaos. I was trying to remind myself to be ok with sitting at a stoplight and not checking my phone. So all of last week, as I ran around in my usual crazy haze, I found myself repeating a little phrase to myself…Find the quiet. Life is so hectic and I just don't want to forget for a minute that quiet is good.
I spent some time in the quiet, in the now, and in my own house moving some things around. If I quit this blog tomorrow, doing that is exactly what would continue to make me happy.
And if you are interested in reading more about how to live with less, you probably want to follow along this 31 Days series with Edie. I am new to her blog (crazy that I haven't been reading it longer!!) and I can't wait to hear a little insight on less & more. The series starts today!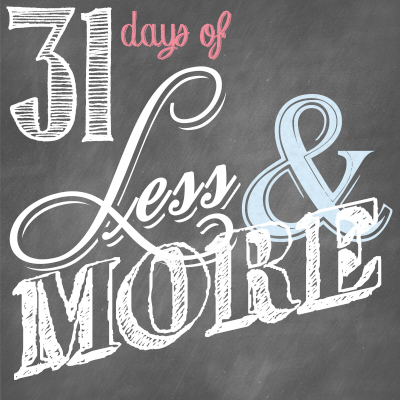 And in an ironic twist I came down with laryngitis this weekend. Talk about literal quiet.
I am trying to stay as quiet as I can and just rest, therefor, I have nothing of the decor variety to share with you today. I am conserving all of my energy for a very exciting thing I will be announcing tomorrow! Make sure to stop back in so I can let you know what I have (quietly) been up to!