Working on my little downstairs bathroom has been fun. Especially since it's a room we don't use everyday so I can start and stop as much as I want. If you will remember it went from bright ass coral to a more neutral grey and I am in the process of making things work with the original black and white tile.
So far I have found a rug, hand towels, and storage baskets. Next up I need to find a mirror and get some art on the walls. In the meantime I have been playing around with the window treatment. I found a leftover extra-long white curtain panel and I decided to see how it looks in the bathroom. I kind of like having a long drapey curtain in the bathroom since it's different and unexpected in front of the small window. It also adds a lot of height to the room. I am contemplating adding a trim to the curtain and adding the same trim to the shower curtain to give it a little more length and tie it all together.
I was a little curious as to if anyone else has used long window treatments in their bathrooms so I did a little Pinterest research. Whadya know…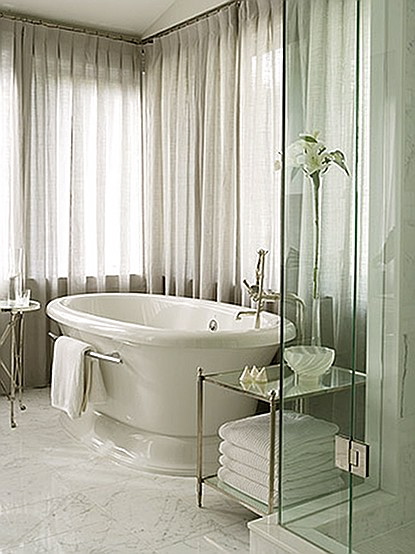 My finished bathroom is not going to be anywhere near as fancy schmancy as most of those pics, probably closest to the last image. They way things are turning out so far I would say its definitely leaning towards a beach/bohemian/vintage feel. I'll share some pictures of my own once I get the final look right.