I'm so excited for my guest post today! I hope you guys won't judge me against all of the super creative and talented bloggers that you already read. I will say up front that this is not my specialty, but I do get a lot of enjoyment out of it so I hope I at least gets points for that!
My family recently bought our first house and the experience has been full of excitement, hard work, and lots of surprises- most contractors don't own a watch and HVAC units are verrry expensive- oh the joy of homeownership. But the flip side is that we can finally do whatever we want to our home without having to get permission from a landlord first. We couldn't wait to get rid of the popcorn ceilings that had been left behind or the depressing paint in the bedrooms, and don't even get me started on the massive sauna that previously lived upstairs (yes, you read that right). Although we've had some projects that were more time consuming and expensive, I've taken the most joy from the little changes I've made here and there without breaking the bank. One of my favorites updates cost $10 and took about 5 minutes to complete- right up my alley.


My 2 year old son was transitioning from a crib to bed when we moved so his room was kind of direction-less for the first few months we lived here. I could only picture a nursery when I looked in the room but I knew I needed to update it to suit the fact that he was no longer my baby (waah!). I have recently been drawn to crisp white spaces with little pops of color and this seemed to fit with the transitional style room I was going for. We went "hospital white" on the wall, as my painter called it, which was a good first step towards brightening up the room to match the energy level of my son.
We also replaced the dangerously loose and outdated ceiling fan with a light I've had my eye on for a while now- the
Ranarp Pendant Lamp
from Ikea. It has a great industrial feel to it with a very cool black and white cord and gold hardware which had me drooling. And the kicker is that it's only $40. Sold! The only catch was that when we installed it the fixture got lost in all the crisp white-ness of the room.
To make it pop I applied some wall decals around the ceiling cup which feature a black and gold theme that accents some of those same colors in the fixture. I stumbled across the decals at Target one day (I was probably supposed to be buying diapers) beside the framed art and wall prints. I found it to be a super cheap, easy, and unique way to give the fixture some "weight" without the permanence of a ceiling medallion. You'll also notice the ceiling damage that the previous ceiling fan left which was patched and further disguised by the decals.
Pretty cute, right?! And considering the amount of time I have to complete most tasks with my 2 and 4 year old running around, this was definitely a quick and easy upgrade.
You can find decals nearly anywhere these days but I've found that Etsy carries some of the more contemporary styles that are more versatile and unique.
The Lovely Wall has several of my favorites including this triangle design where you can get 22 decals for $19.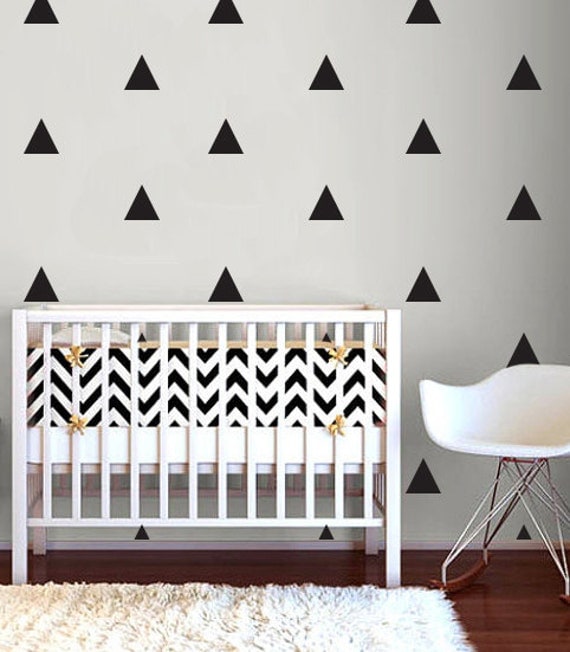 Cuckoo 4 Design's Etsy shop has this great cross design. 16 stickers for only $12.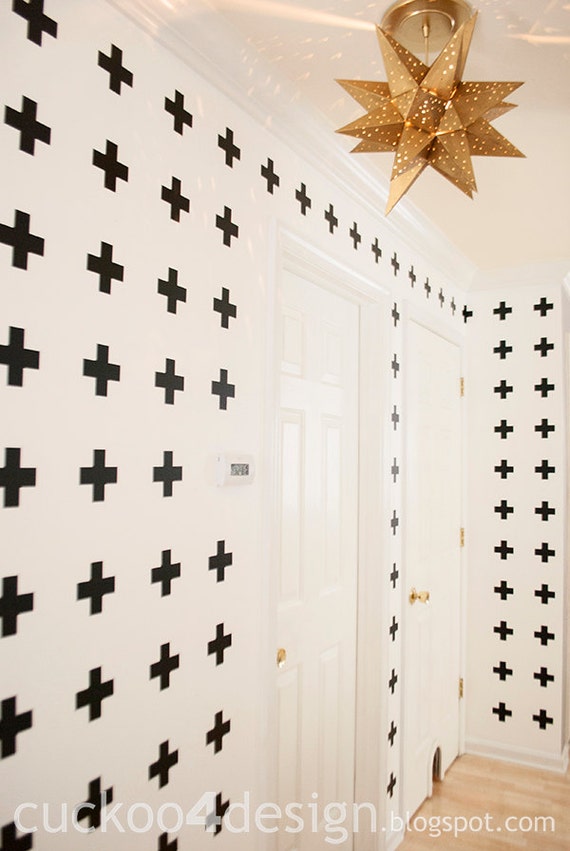 Looksugar is another one of my go-to's and I am in love with their Bee decals. A pack of 20 costs $25.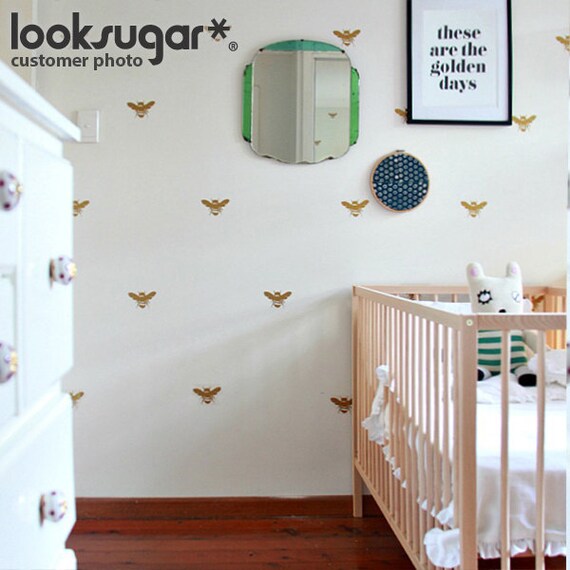 Wall decals are a cheap alternative to painting and wallpaper, but in my case they were also a fun alternative to a traditional light medallion. I'm already thinking of other ways to incorporate this idea into other spaces in my house. I hope you enjoyed!
And come back next week as I show you the rest of this room!