Wow 2011 is over rover! What a year it has been for me! It has hands-down been one of the most roller-coaster years for me EVER. I have always figured I would keep my personal business to a minimum on this blog but really, who am I to think that I can actually follow through with that?! Even when I am posting about design stuff I always feel like I am talking to friends (or no one?) and I want to always keep that open and more personal vibe. So maybe you will start hearing a little more about my personal life in 2012, we'll see.
I will sum this year up by just saying that personally I have learned a lot. Plans changed, life threw some curve balls, and I had to finally, FINALLY learn that I am not in control of a whole lot. It took a crazy ass journey through good pregnancies and lost pregnancies to make me finally stop worrying and just let things flow. So out of something really hard came a lesson that has in turn made my life a lot less stressful.
I also finally understand what all those celebrities mean when they say "you're thirties are the best!" I get it now. It took me 32 years, 10 years post-college to finally figure out what I would like to do with my life. Now when someone asks me what I like to do in my spare time I will have an answer. It used to feel so lame saying "watching tv."
I had my best birthday week ever, two solid weeks at the beach with family, I launched design POST 6 months ago, I completed a volunteer room make over, saw my boys turn 2 and 5, made my first ever eBay purchase (Frye boots!), celebrated 7 years with my hubby, and I have discovered a huge rabbit hole to fill my time called BLOGS and PINTEREST! It's just been a great year!
To honor some of the blogs that have consumed waaay too much of my time this year I wanted to do a "Top 10" list of my favorites. Whether it was a DIY project, a great find, or just a funny post all of these people and blogs have made my little design world go round. Looking forward to what I can toss into the pot this year…
Their posts are more thorough than I could ever dream of being but it pays off when they share great find like this one.
Best inspirational personal story behind a blog's name via
Gus & Lula
Favorite Esty find brought to my attention by a blog courtesy of
Rachel Halvorson
(yes, chevron in the form of jewelry. Take a minute to soak that in.)
Best commercial job I have seen so far on a design blog via
Abode Love
(cant tell you what it was just yet because I am surprising a friend with it.)
Hands down the best attitude comes from Ashley of
Lil Blue Boo
.
Her story and undeterred passion for DIY deserves applause!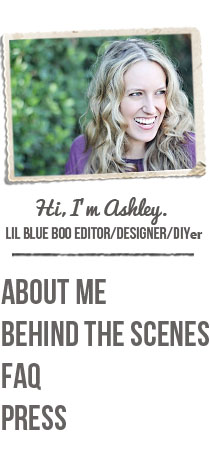 Thank you to everyone who has read my ramblings and taken time to leave comments!
Thank you to all the inspiring blogs out there!
Thank you to the numerous websites that make great products and have awesome customer service!
Thank you Pinterest for your never-ending ideas even though a lot of them make me feel like a slacker!
And a huge special thank you to my husband for always listening to my thoughts, being patient while I steal the laptop, and for constantly telling me I can do it all!
Lots of love to all of you! Happy 2012!